With some of the most experienced people in the industry, Element enables its clients across the globe to gain access to cutting edge travel technology, complemented by the peace of mind that results from our unparalleled level of experience.
Element is in the UK. We have over 20 years' experience in corporate travel, corporate payments, travel technology and TMC operations. Our expertise covers all major online booking tools (OBTs), global distribution systems, agent desktops, ERPs, AI, Chatbots, Mobile itinerary and booking solutions and mid-office automation technologies.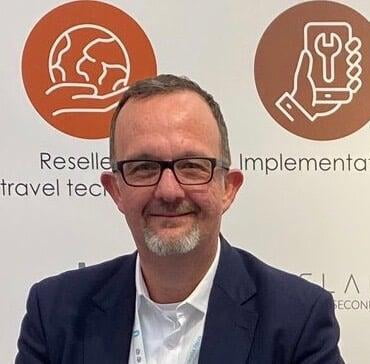 Director of Sales, focused on Travel and Expense software
Gavin has vast experience across various functions within TMCs. Having worked with TMCs of all sizes supporting their goals to deliver technology and payments to their clients. He has a great understanding of the business of TMCs, the art of delivering business travel for employees and is not afraid to fail quickly and learn fast ..
Jari Eloranta, Consultant
Technology and Service
Jari comes with over 30 years' experience in Travel industry, from a TMC operational background to managing a multitude of small to large scale technology projects. With his strong functional understanding and knowledge of current Travel technologies and payment solutions, Jari brings a strong customer focused approach to Element in delivering technology products for our clients.

'Travel is like a drug for me and I have always derived great satisfaction in sourcing and implementing new automation solutions to help extracting maximum efficiencies for various areas of Travel operations.'
Neil Dumoulin, Advisor
Owner and founder of DumoulinRouge.com
Neil provides us with NED and business growth consultancy services. Neil has a strong background which includes of Travel Technology. He has expertise in SME business' providing commercial guidance to deliver growth and expansion. "I'm looking forward to supporting Element in their journey, the travel technology for SME TMCs is key to their growth and Element is well positioned to be the leader in this area."

Business travellers are savvy these days and are demanding the use of online booking platforms, mobile applications and various forms of artificial intelligence to make booking and managing their business trips convenient. Software providers don't always have the bandwidth to partner with small and medium enterprise TMCs and Businesses who are keen to use their products. That's where Element comes in.
We can supply Travel, Expense and Business Software to TMCs or their clients and all combinations of
Looking to use our expertise only, as you have your required software? We are happy to help you there too.
Want to start a new project with us?